HolonIQ: Higher Education Digital Capability Framework
Higher Education Digital Capability Framework
The HEDC Framework is a learner-focused, practical and flexible approach to mapping and measuring digital capability in higher education institutions.
The framework acknowledges educational literature on digital capability and grounds these in current practice using ongoing consultation, research and analysis with higher education leaders around the world.The Higher Education Digital Capability Framework benefits from a continuous and iterative feedback cycle informed by an engaged community of Higher Education professionals.
Mapping Digital Capabilities in Higher Education:
4 Dimensions: The overarching construct that forms the 'top level' of the framework is anchored on the student lifecycle, which can help to focus conversations, efforts and actions across different stakeholder groups and departments.
16 Domains: These create structured groups of capabilities relating to familiar activities like recruitment, curriculum design, assessment and career planning. These domains can map to organisational teams or structures in an institution, but will also overlap and blur boundaries between these. This is where the view of the whole lifecycle and groups of capabilities becomes particularly valuable.
70+ Capabilities Blocks: The capabilities at this level were identified by analysing common factors in established models and frameworks, and refined in consultation with leaders in higher education institutions around the world. The individual capability blocks will continue to evolve as universities and organisations respond and adapt to changing learner needs and market demand.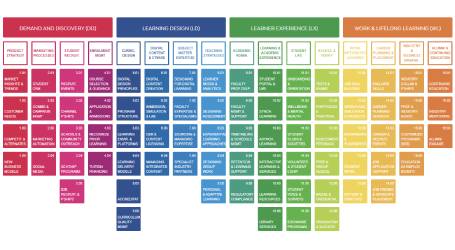 HolonIQ
HolonIQ was founded in 2018 with the vision of building the trusted global source of impact market intelligence in order to connect the people, ideas and capital that are driving and supporting innovation from pre-k through to life-long learning.