Akari Webinar: Addressing the Risks of Managing Partnerships
Addressing the Risks of Managing Partnerships – Due Diligence, Governance & Review
Heidi Voulstaker, with more than 20 years experience in roles with Universities and technology vendors ( Tribal Group, Akari Software, Goldsmiths College, London Metropolitan University and the University of London), is excellently qualified to lead the topic of Governance and Risk.
The webinar will introduce Akari Software's newest addition to its Curriculum Management suite, Akari Partnership Management.  Aligned to the advice and guiding principles of the UK Quality Code for Higher Education, find out how we can support your organisation to:
Manage due diligence and risk
Provide relevant governance, oversight and ongoing monitoring and review
Establish robust procedures and business processes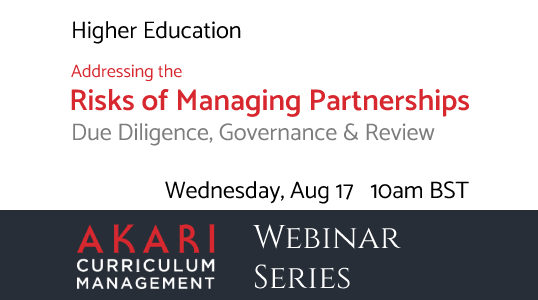 Akari Software
Since 2010, Akari Software has been transforming the Teaching and Learning experience and modernising curricula across the globe. Support your institution to design, control, and automate the behaviour of your curriculum management processes with a workflow tool that offers flexibility, configurability, and integrated intelligence.