Times Higher Education: Impact Rankings 2023
Impact Rankings 2023 Results
It's with great pleasure that we celebrate the 2023 Impact Rankings results. This year, an Akari Software client, the University of Tasmania, ranked in the Top 5 most impactful institutions.
Something to notice is that, for the second year, the university has ranked #1 in Climate Action, one of the 17 SDGs analysed by the ranking.

Also in the Top 50, two more of our clients stood out: the University of the Sunshine Coast (#29) and the University of Galway (#34).


The 2023 Times Higher Education Impact Rankings have unveiled Western Sydney University as the top-ranked institution once again, affirming its continued leadership. Australian universities maintain a formidable presence in the top 10, with the University of Tasmania securing fifth place and RMIT University sharing the seventh spot.
This year's results reinforce the strong correlation between Australasian universities and top rankings, as an institution from the region has now claimed the top position four times since the rankings' inception in 2019. Canadian universities also exhibit noteworthy performance, occupying an impressive four spots in the top 10. Queen's University achieves an outstanding third place, while the University of Alberta, the University of Victoria, and Western University jointly secure seventh and ninth places.
On the international front, the University of Manchester from the United Kingdom distinguishes itself as the second-highest ranked institution, positioning it as the leading European university amidst the extensive list of over 1,500 universities evaluated. Aalborg University from Denmark shares the ninth spot, further highlighting the global impact of exceptional educational institutions.
These rankings underscore the strong correlation between universities' commitment to the United Nations' Sustainable Development Goals and their resulting impact. The consistent performance of top-ranked institutions, along with their collective dedication, reflects the global efforts and collaborations undertaken to foster sustainable development and create a brighter future.
Official Impact Rankings 2023 Results
| 2023 rank | Institution | Country/region | Overall score |
| --- | --- | --- | --- |
| 1 | Western Sydney University | Australia | 99.4 |
| 2 | University of Manchester | United Kingdom | 97.5 |
| 3 | Queen's University | Canada | 97.2 |
| 4 | Universiti Sains Malaysia | Malaysia | 96.9 |
| 5 | University of Tasmania | Australia | 96.6 |
| 6 | Arizona State University (Tempe) | United States | 96.5 |
| =7 | University of Alberta | Canada | 96.4 |
| =7 | RMIT University | Australia | 96.4 |
| =9 | Aalborg University | Denmark | 95.8 |
| =9 | University of Victoria | Canada | 95.8 |
| =9 | Western University | Canada | 95.8 |
Universities can have a far-reaching influence on the world through their research, education and solutions to global social challenges.
The Times Higher Education Impact Rankings are an essential tool providing an unbiased assessment of how universities contribute to this impact and are the only rankings of their kind from the largest system for ranking higher education globally.
This year's THE Impact Rankings aims to show not only what progress has been made, but also opportunities for further growth within each institution – allowing them to measure their effect on society, including both positive and negative impacts.
To achieve this goal, data from institutions around the world are collected, looking at keywords such as 'gender diversity' and 'student welfare policy' which demonstrate real-world results rather than solely relying on metrics such as student grades or number of publications produced. With a vested interest in creating lasting positive change through research disciplines and teaching methods, it is important that academics stay abreast of these new initiatives seeking how best to make use of them towards achieving social good throughout all aspects of university life.
Introducing the Times Higher Education Impact Rankings 2023
The Times Higher Education Impact Rankings 2023 assess universities across 17 of the United Nations Sustainable Development Goals (SDGs), ranging from good health and well-being to peace, justice and strong institutions.
These SDGs are significant because they provide an international framework for setting global priorities and developing national policy agendas that promote sustainable development worldwide.
This method of evaluation will not only create a level playing field among universities but also help to identify their strengths and weaknesses in terms of their respective contributions towards making the world a better place.
What are the United Nations Sustainable Development Goals (SDGs)?
The UN SDGs are 17 goals adopted by all member nations in 2015, which aim to promote global economic development, social inclusion and environmental protection by 2030.
These ambitious objectives are highly interrelated – for example, Goal 4 focuses on quality education, while Goal 14 addresses the conservation and sustainable use of marine resources. Other goals focus on reducing poverty and inequalities, providing clean water and sanitation to all, promoting gender equality, and tackling climate change.
All these objectives are interconnected yet intertwined – for instance, progress towards achieving one goal (e.g. quality education) will also help to promote further progress towards achieving another goal (e.g. gender equality). Therefore, the UN SDGs are a comprehensive set of goals that must be addressed in order to create a better world for everyone. 
The Times Higher Education Impact Rankings 2023 will play an important role in helping universities and other higher education institutions assess their progress towards achieving the UN SDGs and in motivating them to integrate these goals into their curriculum.
Ranking Methodology - How Universities Are Assessed
The Times Higher Education Impact Rankings 2023 assess universities across 17 UN Sustainable Development Goals, ranging from health and environmental protection to education.
Participation in the overall ranking requires universities to submit data to at least four SDGs including SDG 17 – Partnerships for the Goals.
If a university submits data but does not fulfil the overall ranking requirement, it will still be ranked in individual SDGs.
The overall score is generated from scores for up to four SDGs and based on metrics and indicators, which are given an exact or approximate percentage value.
Modifications aimed at enhancing stability in THE's 2023 Impact Rankings.
New measures were implemented to stabilise this year's rankings, as released on the May 11, 2023:
This year, more challenging questions were introduced, focusing on SDGs 3, 4, 11, 16, and 17.
Changes include replacing questions with higher standards and adjusting the calculation of total scores using a rolling average of the last two years.
Overall Impact Ranking scores for 2023 are created by averaging the scores with those from 2022, except for new universities.
The two-year blending is not applied to individual SDG rankings, which focus on specific areas of excellence and good practice.
Relationship Between the UN SDGs and Higher Education Curriculum
The Impact Rankings 2023 will encourage a closer relationship between higher education and the UN SDGs, as well as motivate universities to integrate these goals into their curriculum. This integration will allow students to gain a better understanding of the global challenges we face and how to best respond to them, making their education more relevant to the real-world issues that are shaping our society today.
It will also encourage universities to actively promote sustainable practices on campus, as well as provide students with an opportunity to engage in meaningful research and development projects that have the potential to make a lasting impact on the world.
Benefits of Integrating the United Nations Sustainable Development Goals (SDGs) into University Curriculum
By integrating the UN SDGs into their curriculum, universities will be able to demonstrate their commitment towards building a better world – an essential criterion in achieving higher rankings on the Times Higher Education Impact Rankings 2023.
Universities will benefit from increased participation in international collaboration and research activities, as well as access to more funding opportunities that support their efforts towards promoting social good across all academic disciplines.
This will help universities demonstrate to potential students and employers their commitment to creating a better world than the one they inherited.
The Benefits of Adopting a Sustainable Approach to University Education
Universities that align their teaching, research and societal engagement strategies with the UN SDGs stand to benefit by having access to a wider range of funding opportunities, as many governments and philanthropic organizations are increasingly investing in initiatives that aim to tackle the SDGs.
Investments in sustainability-focused research and teaching projects can help universities build a positive international reputation and attract students from around the world.
Integrating sustainable practices into university curricula will create new collaborations with businesses, NGOs and other organizations, further enriching the teaching and research agendas of universities.
Top 10 Universities in the Impact Rankings 2022
Read more about the Impact Rankings 2022 results.
Western Sydney University – Australia
Arizona State University (Tempe) – USA
Western University – Canada
(4) King Abdulaziz University – Saudi Arabia
(4) Universiti Sains Malaysia – Malaysia
University of Auckland – New Zealand
Queen's University
Newcastle University – UK
University of Manchester – UK
Hokkaido University – Japan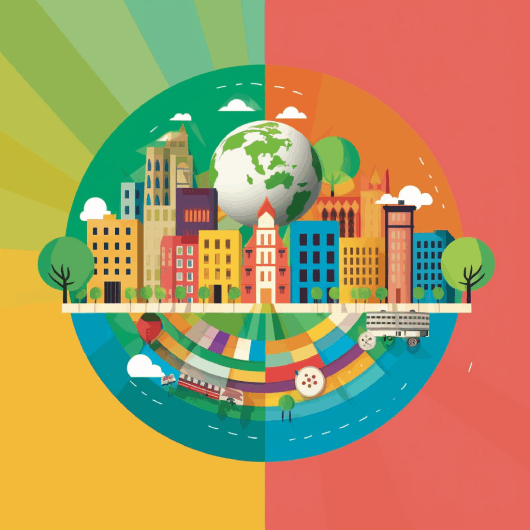 Times Higher Education
Times Higher Education (THE) is a magazine reporting specifically on news and issues related to higher education, and is known for publishing the annual Times Higher Education World University Rankings.