Akari: A Buyer's Guide to Curriculum Management Software
A Buyer's Guide to Curriculum Management Software.
What to Consider Before You Implement a Curriculum Management System.
The value of a higher education experience and the content delivered to students are under increasing pressure.
A university's provision is now scrutinised by several external bodies that act in the student's best interest. If found in violation, the provider can face significant financial and reputational consequences.
When evaluating curriculum management platforms, it's critical to identify a solution that provides a streamlined, secure experience not only for senate members, but also for the teaching and learning managers, student recruiters, risk and compliance teams, and the administrative professionals who will be using it.
Not only should attention be given to how data can support prospective and existing learners, but a myriad of essential categories must also be assessed.
Learn how to do it with this powerful guide.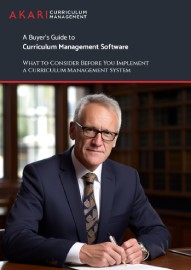 Akari Software
Since 2010, Akari Software has been transforming the Teaching and Learning experience and modernising curricula across the globe. Support your institution to design, control, and automate the behaviour of your curriculum management processes with a workflow tool that offers flexibility, configurability, and integrated intelligence.